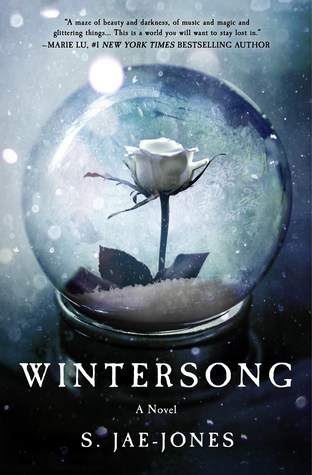 Title: Wintersong
Author: S. Jae-Jones
Publisher: Thomas Dunne Books (Macmillan)
My Rating: 4.25/5 stars
Format/Source: US hardcover from my local library
Coming from a family as musically-inclined as hers, it's only natural that eighteen-year-old Elisabeth, more affectionately called Liesl, dreams of becoming a composer. A female musician, however, is definitely not natural. Society would most certainly look down on her.
In addition to that hindrance, Liesl already suffers from a severe lack of confidence in her music. She was never encouraged and educated with the same care as her brother, Josef, so instead she hides her dreams away in a locked box that lives under her bed.
"The wishes we make in the dark have consequences, and the Lord of Mischief will call their reckoning."
All her life, Liesl has always put herself last. As the oldest child in her family, it's always been her job to look out for her younger siblings–her beautiful, golden-haired sister and foil, Käthe; and Josef, her brother with whom she shares an intense, almost unearthly, bond.
This bond is actually where Liesl's troubles begin. By favoring one sibling, she has neglected the other and put her in danger.
"Once there was a little girl who played her music for a little boy in the wood. She was small and dark, he was tall and fair, and the two of them made a fancy pair as they danced together, dancing to the music the little girl heard in her head."
When Käthe goes missing, Liesl immediately knows just who is responsible for her sister's disappearance. The boy that she used to play with in the Goblin Grove near her house. The boy who was not actually a boy at all, but Der Erlkönig. The Goblin King of legend. The cruel Lord of Mischief.
"I could not tell what color his eyes were from where I stood, but they were likewise pale, and icy. The Goblin King tilted his head in a duelist's nod and gave me a small smile, the tips of his teeth sharp and pointed. I clenched my fists. I knew that smile. I recognized it, and understood it as a challenge.

Come rescue her, my dear, the smile said. Come and rescue her…if you can."
Continue reading "Wintersong by S. Jae-Jones: Book Review" →