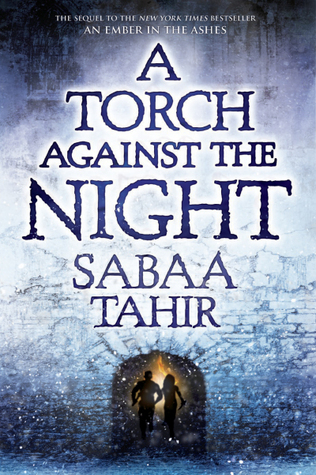 Title: A Torch against the Night
Author: Sabaa Tahir
Series: An Ember in the Ashes
Publisher: Razorbill (Penguin Books)
My Rating: 2/5 stars
This review may be shorter than my others, but by my rating, you can probably tell how I felt about this one, and I hate to go on and on about books I disliked when everyone else loved them–for that, you can choose to check out my Unpopular Opinion post coming soon. 😉
"So long as you fight the darkness, you stand in the light."
So I should start this off by saying that those who were enthralled with An Ember in the Ashes will probably enjoy this sequel. I never quite loved Ember as much as everyone else seemed to, but I did really like it and bought my own copy after borrowing it from the library. (As someone with limited shelf space, this says a lot.) I also really liked the idea of a duology. Maybe it's just because this is now part of a four-book series, but Torch suffered some serious second-book syndrome; it definitely felt like a filler book. I was highly disappointed.
A Torch Against the Night picks up pretty much immediately after its predecessor, with Elias and Laia escaping Blackcliff with the objective of reaching Kauf prison. There they plan to free Darin, Laia's brother, whose knowledge might be key in leading a successful rebellion against the Empire.
Helene is now Blood Shrike and must obey newly-crowned Marcus, who tasks her with capturing Elias, whereupon his return he will be executed. As if choosing between serving the Empire–which she has planned and trained for all her life–and saving her best friend's life wasn't already hard enough, Helene must also consider her family whom Marcus is using as leverage to ensure her loyalty.
Continue reading "A Torch Against the Night by Sabaa Tahir: Book Review" →