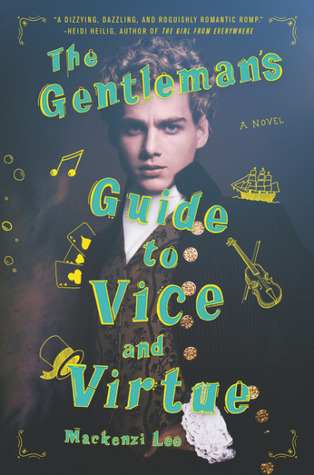 Title: The Gentleman's Guide to Vice and Virtue
Author: Mackenzi Lee
Series: Technically a standalone; however, a companion novel called The Lady's Guide to Petticoats and Piracy is set to be released in 2018.
Publisher: Katherine Tegen Books (HarperCollins)
Source/Format: US hardcover
My Rating: 3/5 stars
"We're not courting trouble," I say. "Flirting with it, at most." 
Eighteen-year old troublemaker Henry Montague, more affectionately referred to as Monty, has been given one final year–one last hurrah–before he must get his act together and officially take over his family's estate. Before then, Monty is to embark on a Grand Tour of Europe, as is common for most young men of his privileged status.
Joining him on this trip is his younger sister, Felicity, and his best friend, Percy. Percy, whom just so happens to be the one Monty, our bisexual protagonist, has been harboring a crush on for quite some time.
So not only does Monty have to worry about what he's going to do when his time is up, but he also must come to terms with whether or not Percy reciprocates his feelings; and even if he does, could they ever make the leap from being best friends to a couple?
"The great tragic love story of Percy and me is neither great nor truly a love story, and is tragic only for its single-sidedness. It is also not an epic monolith that has plagued me since boyhood, as might be expected. Rather, it is simply the tale of how two people can be important to each other their whole lives, and then, one morning, quite without meaning to, one of them wakes to find that importance has been magnified into a sudden and intense desire to put his tongue in the other's mouth. 
A long, slow slide, then a sudden impact." 
Continue reading "The Gentleman's Guide to Vice and Virtue by Mackenzi Lee: Book Review" →