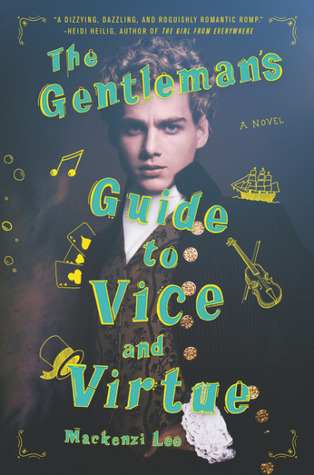 Title: The Gentleman's Guide to Vice and Virtue
Author: Mackenzi Lee
Series: Technically a standalone; however, a companion novel called The Lady's Guide to Petticoats and Piracy is set to be released in 2018.
Publisher: Katherine Tegen Books (HarperCollins)
Source/Format: US hardcover
My Rating: 3/5 stars
"We're not courting trouble," I say. "Flirting with it, at most." 
Eighteen-year old troublemaker Henry Montague, more affectionately referred to as Monty, has been given one final year–one last hurrah–before he must get his act together and officially take over his family's estate. Before then, Monty is to embark on a Grand Tour of Europe, as is common for most young men of his privileged status.
Joining him on this trip is his younger sister, Felicity, and his best friend, Percy. Percy, whom just so happens to be the one Monty, our bisexual protagonist, has been harboring a crush on for quite some time.
So not only does Monty have to worry about what he's going to do when his time is up, but he also must come to terms with whether or not Percy reciprocates his feelings; and even if he does, could they ever make the leap from being best friends to a couple?
"The great tragic love story of Percy and me is neither great nor truly a love story, and is tragic only for its single-sidedness. It is also not an epic monolith that has plagued me since boyhood, as might be expected. Rather, it is simply the tale of how two people can be important to each other their whole lives, and then, one morning, quite without meaning to, one of them wakes to find that importance has been magnified into a sudden and intense desire to put his tongue in the other's mouth. 
A long, slow slide, then a sudden impact." 

Alright, well, I have very mixed feelings right now.
I quickly blasted through the first half of the book one night before bed and was really enjoying it, but it felt like I kept waiting for something… more. By the next morning, my interest had notably faded and it took me almost two weeks to read the second half. 🙃
At first I was going to give TGGTVAV the benefit of the doubt and officially rate it 4 stars, as I chalked up most of my disappointment to all of the hype surrounding the book; I figured that was what inevitably played a part in me finding it underwhelming. However, I just can't rate it 4 stars after the many, many times I found myself wanting to DNF it.
My main reason for wanting to DNF it had to do with the storyline. Upon first reading the Goodreads summary, I was immediately in love with every aspect of the book; it sounded like Mackenzi Lee took all of my favorite things and finally put them in one 500-page novel for me to read and devour. The only thing that kept me a bit wary was the plot, or rather the lack of one.
(I mean, just look at the last book I read that was filled with characters doing nothing other than covering land–A Torch against the Night, my least favorite book of 2016.)
You have to really be invested in the characters to enjoy a book that doesn't have much of a storyline. 
And that wasn't the case for me in Gentleman's Guide. While I did love the characters, I didn't love them enough–not when I had to push through 500 pages of nothing happening.
Other than Monty, Percy, and Felicity just gallivanting around Europe, a deeper plot does arise, but it very much took a backseat to the characters and their issues, which also involved just way too much nothing for me. Just when it seemed the characters were finally making some progress, something would happen and put everything on pause while I was left waiting once again for some kind of resolution.
Ultimately, I think if around 100-200 pages had been cut, I would have enjoyed the book much more, and it easily could have earned 4+ stars from me.
(Side-note: I actually did see someone call this book action-packed, so I guess it's up for you to decide! So many people that I know loved this book, so if you think you might, I definitely say give it a try! I'd hate for this review to stop someone from reading what might become their favorite book. Maybe this is just a case of "it's not you, it's me?")
But again, I did love the characters–or most of them anyway.
I started off loving Monty and the sarcastic, overly cocky demeanor he put on to hide his flawed, self-deprecating side, but it quickly became tiring for me. Luckily, I didn't have that problem with the other characters.
I absolutely adored Felicity and appreciated both her bravery and her intelligence–both of which seem to be natural products of her inquisitive personality. That being said, I can't wait to see what she's up to in her companion novel that comes out next year! (I'm hoping it will have a stronger plot, or at least maybe it will be more enjoyable with Felicity as the protagonist.)
"Just thinking about all that blood." I nearly shudder. "Doesn't it make you a bit squeamish?"
"Ladies haven't the luxury of being squeamish about blood," she replies, and Percy and I go fantastically red in unison." 
And of course, I loved Percy. Rational, yet passionate, intelligent Percy.
Honestly, I can't decide how I feel about him and Monty. They're both polar opposites, and in most cases it makes sense to me why they say opposites attract, but in Percy's case, I felt he deserved better.
I sympathized with Monty and all of his baggage, and of course I wanted him to learn to love himself. But at the end of the day, no matter how much he claimed to want to get his act together and be a better person for his loved ones, it never felt like he even tried to change.
We are not broken things, neither of us. We are cracked pottery mended with laquer and flakes of gold, whole as we are, complete unto each other. Complete and worthy and so very loved.
There is this beautiful little quote, however. 😭 So you can see why my feelings are a bit mixed, haha.
Mackenzi is a fantastic writer, and there were several quotes that I simply couldn't stop myself from bookmarking while reading. (That's a big deal for me; I don't waste my precious post-it tabs on just any book. 😝)
All in all, while the writing and side characters were high points for me, I think all of the hype surrounding The Gentleman's Guide to Vice and Virtue and the lack of a more developed plot kept me from enjoying it as much as I had hoped to.
---
😭 I'm so sad that I didn't love this one as much as everyone else… Maybe I just chose a bad time to pick it up? Either way, I'd love to know your thoughts!
– Taylor