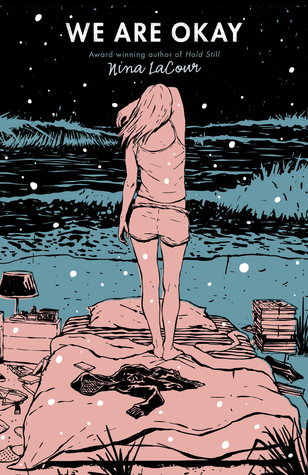 Title: We Are Okay
Author: Nina LaCour
Publisher: Dutton Books for Young Readers (Penguin)
My Rating: 4.25/5 stars
"I was okay just a moment ago. I will learn how to be okay again."
As the only student who opts to stay on campus during dreary winter break, college freshman, Marin, finds herself stranded in her empty dorm. She is alone both physically and mentally, but not for long–Mabel is coming.
Marin's life has been full of hardship. Nothing has been easy for her. Her father was never in the picture, and her mom passed away when she was young. To make matters worse, it seems like everyone in Marin's town knew and loved her mom. They're drawn to her, always randomly walking up to Marin and talking about her as if she remembers her. Ever since her death, she has lived with her strange yet loving–in his own way–grandfather.
A few months before we join her story, tragedy struck and eighteen-year-old Marin could not have gotten out of California any quicker. Thankfully, she had college waiting for her in New York as an excuse, and upon her abrupt departure, she cut all ties with everyone she knew, saying goodbye to no one.
But you can't outrun tragedy forever. After months of silence and the countless calls and texts–laced with the gentle concern of a best friend–going unanswered, Mabel takes a different approach. She decides to visit Marin in person, where she knows she will be incapable of ignoring her. Now, Marin must begin to face all that she has tried, and failed, to put behind her.
Told in alternating chapters between the past and present, we slowly piece together an idea of what Marin's life was like before she left, and what happened to make her leave the way she did.
---
I'm just going to preface this by saying: man, that cover is absolutely gorgeous and works so perfectly for the story. We Are Okay is my first read by Nina LaCour, and it did not disappoint. She did a phenomenal job in capturing the hushed isolation Marin has found herself in–both literally and figuratively. That's actually what drew me in; the reserved solitude quietly beckons you to uncover what happened to Marin. After all, what could have sparked such a noticeable change in this girl who previously was excited to start her life and was surrounded by so many loving people?
How did she go from this–
"We were miraculous.
We were beach creatures.
We had treasures in our pockets and each other on our skin."
to such unending loneliness and despair?
I mention it often enough, but the contemporary genre is not usually for me. More often than not, my thoughts are occupied with the many fantasy worlds I've come to know and love. But every now and then, I need a healthy dose of reality, so here's where the contemporary genre comes into play.
It does, however, still take a lot to impress me, since there's no big, fancy world-building or complex, layered plots. Instead, it's up to the characters, writing, and subject matter to grab my interest and evoke the stronger emotions in me. In the past, only Melina Marchetta has really been successful in doing this for me, but LaCour's We Are Okay was another pleasant, rare exception. Right from the beginning, I knew that Marin's story was going to make its own unique dent in my heart. I could tell this was going to be profound, character-driven read.
So, let's start there–with the characters. Marin. Of course I loved Marin. I felt so deeply for this girl who was just trying to keep herself functioning; my heart ached for her. I loved her attachment to reading and how she always applied those stories to real life situations. (I hope one day she'll gain back her ability to read without feeling so pained by it.) Underneath this broken girl, we see bits of the charming, intelligent girl she used to be, who thinks adorable things like this:
"She leans over our table and turns the sign in the window so that it says CLOSED on the outside. But on our side, perfectly positioned between Mabel's place and mine, it says OPEN. If this were a short story, it would mean something."
And hopefully one day she can go back to being that way.
Mabel. Mabel is one of the best friends you could ever hope to have–after months of being completely and totally ignored by Marin, she refuses to give up on her. She makes her way across the country for three simple goals: to check on her, to get clarification on what state Marin is in emotionally and mentally, and to request that she come home with her and her family for the winter break. Even when she arrives, she doesn't pressure Marin to explain herself; she waits patiently, as if she–as is the duty of a best friend–already knows that Marin doesn't have the answers yet.
"I wish you more happiness than can fit in a person."
We are also told quite early on that the lines have become a bit blurred between them. It's clear that at some point they became romantically involved, so what exactly happened to put an end to that? Or was there an "end" to it–do they still love each other in that way?
Normally, flashbacks will prevent me from finishing a book, movie, TV show, etc. Often, it seems like authors and screenwriters use them too conveniently. By that I mean, they don't feel natural and it seems like they are there to explain something they forgot to include in the first place. They don't usually surprise you or make you question anything.
In We Are Okay, the flashbacks worked for me, because there was such a huge gap in the Marin we've been introduced to and who she used to be. Instead of Marin just slowly telling us what happened, we get to see everything unfold and how Marin came to be this lonely, despondent girl. I think it was a smart decision, and the best way to tell her story.
Ultimately, I really, really enjoyed this one and can't wait to check out LaCour's other works. As someone who hardly ever likes contemporary books, I highly recommend this one!
---
Let me know if you've read this one! Has anyone else read any of Nina LaCour's books? If you have, how did you like it? Which book of hers should I read next?
– Taylor