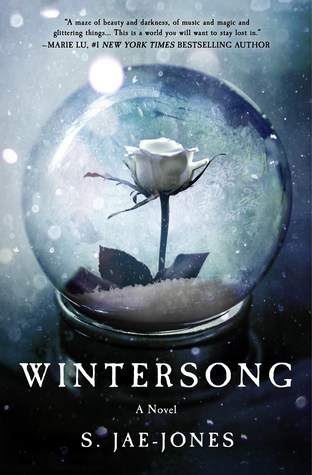 "There is music in your soul. A wild and untamed sort
of music that speaks to me. It defies all the rules and laws you humans set upon it. It grows from inside you, and I have a wish to set that music free."
With a book so centered on music, it would be a huge mistake for me not to include a playlist, so while I finish my review for Wintersong, I thought I'd go ahead and give you my recommendations. Here's what I listened to while reading. I hope you enjoy my first book playlist! ☺️
Here is the playlist if you want to just get right into it, but if you wanted to know my thought process–why I chose what songs I did, you can keep reading. Up to you. 😉 Either way, please let me know what you think!
Maybe it's because I'm too much of a music critic, but I always find it hard for music to translate through books; however, Jae-Jones did a wonderful job with Wintersong. In addition to her extensive knowledge on music and her impressive ability to describe, the other great thing about the book is that she does outright tell us the names of three pieces that are performed in a chapter called The Audition. In this way, Jae-Jones made things a bit easier for us here, as we get both her description of it and we have the option to actually listen and imagine how it sounded.
Instead of you having to put down the book and research, here are those pieces in chronological order of the pages they appear in (at least for the US hardcover):
Page 64: Haydn's Sonata No. 2 in D Major
Page 69: Vivaldi's L'inverno: II. Largo
Page 70: Vivaldi's L'estate: III
For the rest of this playlist, I used only scores and soundtracks. I listen to songs with lyrics quite often while reading, but in this case, I feel words and lyrics would interfere with your connection to the story; in this instance, I think they should take a backseat to the emotions the instruments emulate. (If you issues listening to scores only and must have lyrics, I recommend Agnes Obel and Daughter, as they have some pretty haunting songs that are both mellow yet intense at the same time.)
The main first part of this playlist was an obvious choice to me right away. Since Liesl, Josef, and their father all play violin, I knew I wanted to include a haunting, suspenseful soundtrack with violin at the forefront. This instantly made me think of The Village soundtrack. Shyamalan may get a bad rep for his movies (believe me, we had to tear his movies apart in my FilmLit class), but James Newton Howard's compositions have always been extremely moving for me.
Which brings me to the next big part of this playlist–the score for Shyamalan's Lady in the Water, again done by James Newton Howard. In addition to darker pieces with a focus on violin, I knew I also wanted a soundtrack with a fairy tale-like quality to match the feelings of wonder and enchantment that go along with Wintersong. LitW just so happened to fit that bill.
Both of these soundtracks also have a tinge of sorrow and despair to them, which–spoiler–suits this book perfectly. Another melancholy track is "Casper's Lullaby," one of the first pieces from a movie I ever heard and immediately loved. It defines the word "bittersweet" for me.
Next, I chose songs from another favorite composer of mine, Danny Elfman. Ultimately, I did use some, but most of his works from The Corpse Bride were just too fast-paced in places and the only versions I found on Spotify contained bits of dialogue that completely negated the atmosphere I was going for, so they did not work. (Note: I did not include it, but if you're willing to overlook the cheesy dialogue, check the rest of the soundtrack out. Some of the tracks really would have worked without them; the track "Main Titles" even has a part towards the end that almost sounds like a clock is ticking away, counting down, which definitely works for this story.)
And again, only a handful from Edward Scissorhands worked, as too many of them were playful and almost comical when I was looking for darker, more chilling tracks like "Ice Dance" and "The Grand Finale." 
Lastly, I picked a few songs from one of my favorite all-time scores, Pan's Labyrinth. That whole soundtrack easily brings me to tears, but that's not why I chose it. Javier Navarette's haunting pieces combine the feelings of wonder and enchantment, along with the suspense and despair. Perfect way to end it, in my opinion. 😉
---
Well, that's all for now, so stay tuned for my review of Wintersong! I hope this playlist allows you to connect to the story as much as I did. Let me know if you have any suggestions to add! I'd love to hear them!
– Taylor