Welcome to my first entry in my "Unpopular Opinion" series, wherein I discuss, well… my unpopular opinions.
Since the ACOTAR trilogy is coming to an end in early May–well, at least it's only the end of this arc, thank goodness–I think it's only fitting that I start with this series.
So, my Unpopular Opinion: I did not like A Court of Thorns and Roses.
Hear me out before you go grabbing those pitchforks though! I loved, loved, loved its sequel A Court of Mist and Fury.
I knew this was something I'd eventually want to discuss, so while reading both I wrote these fun, silly lists that basically summed up my thoughts at the time of what I liked and what I disliked about each book:
**potential spoilers from here on out**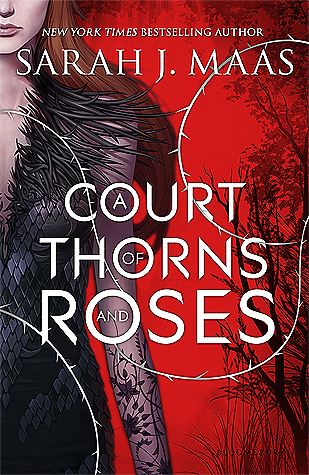 Pros: 
RHYSAND RHYSAND RHYSAND
Feyre's trials–Under the Mountain–through the end of the book (that cliffhanger though o.o)
Low-key interested in Lucien and his past
Did I mention RHYSAND
Cons:
TAMLIN GO AWAY
Boring romance that seems largely based on attraction/lust/sexual desire
Tamlin is no "beast"–there is nothing really keeping Feyre from loving him (see my post linked at the bottom for more)
Everything before Under the Mountain *sighs* so boring
Calanmai (ew, never been so uncomfortable in my life) and the way Feyre just will not listen to anything anyone ever says
---
Pros:
RHYSAND RHYSAND RHYSAND
BYE TAMLOSER
THE NIGHT COURT AND THEIR CAMARADERIE/FRIENDSHIP
Feyre's "abilities" and is actually  interesting for once–her personal growth
Important messages on love (like harmful/abusive relationships)
Expansion on Feyre's sisters Nesta and Elain (we get to see them as three-dimensional characters who aren't just hateful and awful for no reason)
More in-depth world-building
Oh and I can't forget RHYS RHYS RHYS
That ending though
Cons:
That ending though (yes, it's both a pro and a con–My. Heart. Sarah.) Okay maybe it's not really a con XD
As someone who was never his biggest fan–or even a fan–of him, I think Tamlin is made out to be more of a villain than he really is (SJM's writing seemed to manipulate things and left him feeling a tad out-of-character)
A bit of lagging in some places (like info dumps)
Wanted to see more of Lucien 
---
(Side note: I have plenty to talk about with Sarah's books, but I just wanted to get this out there first before ACOWAR comes out in May. Who knows, maybe ACOWAR will once again change my mind–although I highly doubt it. Fingers crossed!)
After reading Sarah's Throne of Glass and being so pleasantly surprised by how she could make me love characters I'd normally hate–as well as discovering her writing talents in the wonderful rise in character development, plot, and intricate world-building found within each new installment–I could not contain my excitement when I heard she was writing a new series. Based upon the classic "Beauty and the Beast," I thought nothing could go wrong, but ended up sorely disappointed.
(To see some of my issues with ACOTAR more fully explained, you can read my post "Who Wrote It Better: Rosamund Hodge vs. Sarah J. Maas," which mainly focuses on where I thought ACOTAR failed and Cruel Beauty succeeded in being a worthy "Beauty and the Beast" re-telling.)
Basically, what it comes down to is this: 
I could not connect with Feyre on any level. I could not connect with most of the characters, for that matter–the ones that most interested me held the smallest roles. And when it's impossible for me to connect with a character, I turn to the plot for a thrilling story that makes the not-so-interesting characters worthwhile. But again, there was very little plot up until the very end. Feyre's weak personality and the slow-pacing of the novel ultimately just failed to captivate me the way that ToG's Celaena was able to.
Near the very end, when Feyre goes "Under the Mountain," was the first time I felt my interest peak; I thought to myself, "yes, here we go now," because I was so not ready to give up on Sarah and this series. It is because of this ending, in which we finally get to see Feyre shine and become the strong heroine I wished to see all along, that I felt forced–no, ordered–to read the sequel. (Okay, and maaaybe Rhysand. Him, too. XD )
All this being said, I still hold this very unpopular opinion about not having enjoyed ACOTAR. Hopefully, I've cleared up why I felt the way I did, and maybe even will spark a discussion in those of you who did love ACOTAR.
---
**If you saw my last post, you'll know that I am now a Book Depository affiliate! (Yay!) If you have not yet read this wonderful series or Sarah's other works, I strongly urge you to go buy them here!**
---
Comment below if you want! I'd love to hear your opinions and turn this into a discussion! 🙂
– Taylor