Similar to the popular magazine "Who Wore It Better?" columns, "Who Wrote It Better?" is where I compare two books or series that share a similar plot, setting, background, or subject matter.
First up in the "Who Wrote It Better" saga (*click the titles for their Goodreads links*):
Rosamund Hodge's Cruel Beauty vs. Sarah J. Maas' A Court of Thorns and Roses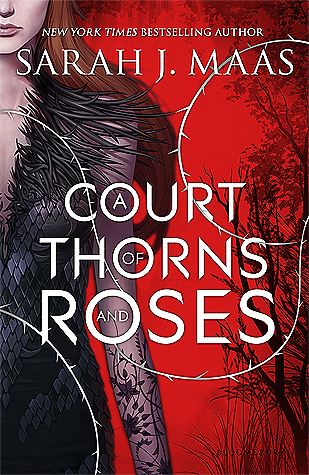 VS
By my ratings, I think you can tell which I enjoyed more, but here in this post I will explain why. You can also consider this a recommendation; if you enjoyed one, you may enjoy the other. 😉
Cruel Beauty's Goodreads Description:
Graceling meets "Beauty and the Beast" in this sweeping fantasy about one girl's journey to fulfill her destiny and the monster who gets in her way-by stealing her heart.
Based on the classic fairy tale "Beauty and the Beast," Cruel Beauty is a dazzling love story about our deepest desires and their power to change our destiny.
Since birth, Nyx has been betrothed to the evil ruler of her kingdom-all because of a foolish bargain struck by her father. And since birth, she has been in training to kill him.
With no choice but to fulfill her duty, Nyx resents her family for never trying to save her and hates herself for wanting to escape her fate. Still, on her seventeenth birthday, Nyx abandons everything she's ever known to marry the all-powerful, immortal Ignifex. Her plan? Seduce him, destroy his enchanted castle, and break the nine-hundred-year-old curse he put on her people.
But Ignifex is not at all what Nyx expected. The strangely charming lord beguiles her, and his castle—a shifting maze of magical rooms—enthralls her.
As Nyx searches for a way to free her homeland by uncovering Ignifex's secrets, she finds herself unwillingly drawn to him. Even if she could bring herself to love her sworn enemy, how can she refuse her duty to kill him? With time running out, Nyx must decide what is more important: the future of her kingdom, or the man she was never supposed to love.
A Court of Thorns and Roses' Goodreads Description:
When nineteen-year-old huntress Feyre kills a wolf in the woods, a beast-like creature arrives to demand retribution for it. Dragged to a treacherous magical land she only knows about from legends, Feyre discovers that her captor is not an animal, but Tamlin—one of the lethal, immortal faeries who once ruled their world.
As she dwells on his estate, her feelings for Tamlin transform from icy hostility into a fiery passion that burns through every lie and warning she's been told about the beautiful, dangerous world of the Fae. But an ancient, wicked shadow grows over the faerie lands, and Feyre must find a way to stop it . . . or doom Tamlin—and his world—forever.
---
The Main Similarities:
Both authors draw on the classic "Beauty and the Beast" tale to outline the basic plot of their books as well as build their characters.
They also both contain allusions to the famous "Tam Lin" ballad.
Both stories take place in a fantastical, made-up world.
Each contain a protagonist who has been mistreated by their family.
The two protagonists are both forced to go live with an enemy--the "beast" factor–for different reasons.
Both are initially resentful and hateful towards their "captors" until they spend more time with them, and ultimately discover they are not the monsters they appear to be.
(For those who care about aesthetic, oddly enough, even both covers appear similar, with their mixtures of red and black.)
---
Comparison of the two, split up by category:
Round One–Setting/World-Building:
I have to say it must be a tie between the two on the world-building. Since the larger part of both books take place in one massive house, both authors easily could have taken the easy way out and chosen to give very little information on the outside world.
Instead, both Hodge and Maas choose to give us an in-depth explanation of how each world operates.
In ACOTAR, you've got the world of Prythian which is divided into two by a wall that separates the mortals/humans from the immortals/Fae. Much more vast and widespread than the human realm, the Fae are split up into seven different courts: four of which are named after the seasons (Spring, Summer, Autumn, Winter) and the other three are related to time of day (Dawn, Day, and Night). Feyre is taken to the Spring Court. We also get glimpses of a strained relationship between Prythian and another country called Hybern. As this is only the first book in a series, we aren't told too much, but just enough that we can infer a war may be brewing between the two countries.
In Cruel Beauty, I cannot say too much on the background, as you must find out some of the information along with Nyx. (It's part of the intrigue and final mystery that Nyx must solve.) It's also been quite a while since I read it, but what I can remember is that Hodge not only created a strong, well thought-out setting in which the characters live, but also built her own unique mythology that serves as a basis for the characters–religions they worship, daily rituals, holidays, etc.
Therefore, again, it must be a tie between the two for setting/world-building.
Round Two–The Plot:
During the first 75% or so of ACOTAR I was immensely bored with the slow-pacing and gradually grew more and more tired of the plot and characters. However, the last 25% is exactly what I had hoped for–Feyre finally got off her butt and used her brain, taking both her life and destiny into her own hands. It was this final 25% that prompted me to read the sequel in hopes that Feyre could only continue to evolve (and that we might get to see more of a specific character whose name happens to start with an R 😉 ).
With Cruel Beauty, I was entertained and entranced the entire time by Hodge's the mystery that was the Gentle Lord and–not whether or not–but how Nyx would put an end to the cruel Gentle Lord. Would she end up his murderer or his savior? I was totally invested in Nyx uncovering what exactly it was that Ignifex was hiding, and found myself tearing through the pages. I was more than content with all aspects of the plot. The exposition, rising action, climax, falling action, and conclusion–all were equally well-done, in addition to the pacing of the book.
That all being said, Cruel Beauty wins round two.
Round Two–The Characters:
Right off the bat, I have to say that though I had issues with both protagonists, I'd have to go with CB's Nyx as the one I liked and enjoyed more.
My issues with her mostly stemmed from her initial behavior towards Ignifex–the "beast" in this case. One minute she was terrified by him and the next ridiculously trying to put up a front and acting stubborn with him, with small doses of her being entranced by him thrown in as well. It was just inconsistent and immature. However, I'll allow her that, as I probably would have the same reactions to someone as disarming as him. Plus, as implied by initial, her behavior does mature and eventually allowed me to enjoy her more and more.
Compared to that, ACOTAR's heroine, Feyre, was just so bland and aggravating. As mentioned above, I did not enjoy her character at all until the very end of the book, where it seems she finally blossoms into the strong character I had expected of the fierce huntress I met at the very beginning of the book. She just seemed so angry for no reason other than blind hatred, and I'm sorry but that just doesn't work for me. Feyre also had a terrible habit of being utterly incapable of listening when others repeatedly warned her of danger. I absolutely could not fathom it. I mean, if you were in an enemy territory and at the mercy of said powerful enemies, how could you not listen?
Cruel Beauty, for the most part, contains a limited number of characters, but they are well-written and the small cast is vital for us to get the full effect of the solitude Nyx must endure. I also loved how honestly Nyx's relationship with her sister was portrayed. It wasn't pretty and Hodge didn't dare refrain in the envy and contempt Nyx felt towards her sister. But that's what made her easy to sympathize with and so refreshing.
On the other hand, A Court of Thorns and Roses contains a more extensive cast–which may largely be due to the fact that it's a series and characters have to be introduced in order to revisit them at a later time–but I found only a small fraction of them to be intriguing and worth reading. I adored Rhysand, who it seemed should have been the beast instead of Tamlin–he just so obviously was hiding under a "mask." The only difference was his just wasn't quite as literal as Tamlin's. This brings me to my next category.
Round Four–Finding Love with "The Beast":
In "Beauty and the Beast," the main focus of the story is, of course, the romance between the two. Therefore, I think his portrayal is pretty integral in any re-telling.
One more similarity not mentioned above is that both CB and ACOTAR contain love-triangles… well… sort of. Cruel Beauty employs a unique twist on the classic love-triangle trope, and although a love-triangle does not come into play in ACOTAR, there are strong hints of one that do come into play in its sequel, A Court of Mist and Fury. Again, initially I was slightly annoyed by Nyx's wish-washy personality–especially the way it affected the love triangle (with her feelings towards the both of the love interests constantly changing). But as the book progresses and you learn more–as Nyx's path becomes more clear–I was able to overlook it. (Can't say too much here without spoilers.)
But we're focusing on the beast aspect here.
The Beast and his backstory are just as essential as the romance. The beast needs to be terrifying and easy to hate and misunderstand. That's the main part of the attraction to the story's romance–Beauty being able to look past the Beast's outside appearance or countenance and seeing the true person underneath so wholly and completely.
In ACOTAR, although Tamlin may have been able to physically transform himself into a "beast," he acted nothing like one and Feyre had no reason to hold such contempt for him other than the stigma tied to the Fae. And that's fine, as long as we get to see a closed-minded character like Feyre open up, but for me it never seemed like she made any progress. Most of the "romance" between Feyre and Tamlin seemed to simply be lust–purely sexual. Tamlin also looks nothing like a beast; though he may wear a mask that permanently conceals his face, Feyre gets the impression that from what she can see, he's gorgeous. There's no struggle here to love him (although, unlike Feyre, I could not).
So when you compare Tamlin to Cruel Beauty's Ignifex, it's clear who comes across as more of a beast. Ignifex, the Gentle Lord, is in no way gentle or kind. (Or at least it seems that way.) He's cruel and conniving. He deals in dirty bargains, preying on the wishes of gullible people, giving them whatever they desire but also punishing them in just an equally terrible way as whatever brought them to him in the first place. (This is how Nyx became entangled with him–her father made a bargain many years ago and she was the price he had to pay.) In addition to his malicious nature, his appearance is quite horrifying as well, with his blood-red, cat-like eyes that are bound to terrify anyone.
Ignifex fulfills both parts of the requirements for this round, so I again have to give it to Cruel Beauty.
The Winner:
Rosamund Hodge's Cruel Beauty. It almost isn't fair to compare these two with the huge gap in my enjoyment level for each, but that's kind of the point. I really wanted to explain my feelings towards ACOTAR–why I felt CB was much better and why it was a much more worthy re-telling in my mind.
I seem to be one of the few people who did not enjoy ACOTAR. I went into it expecting to love it the way I did Sarah J. Maas' Throne of Glass series, but unfortunately had many, many problems with it. (**The good news is, for those wondering, I did love its sequel ACOMAF! You can expect a fun, short post explaining why coming soon. 😉 **)
---
Compared to Cruel Beauty, ACOTAR just pales in comparison for me. I hope this helped explain why. Have you read either of these books? If so, what did you think? Tell me below! I'd love to discuss.
(Also, if you're looking to buy any of these, you can use my Book Depository affiliate link at the side of my blog! Any commissions I earn will go towards me hosting giveaways!
)
– Taylor