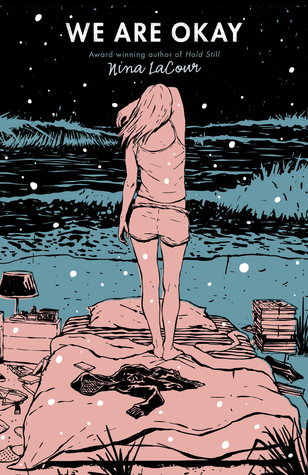 Title: We Are Okay
Author: Nina LaCour
Publisher: Dutton Books for Young Readers (Penguin)
My Rating: 4.25/5 stars
"I was okay just a moment ago. I will learn how to be okay again."
As the only student who opts to stay on campus during dreary winter break, college freshman, Marin, finds herself stranded in her empty dorm. She is alone both physically and mentally, but not for long–Mabel is coming.
Marin's life has been full of hardship. Nothing has been easy for her. Her father was never in the picture, and her mom passed away when she was young. To make matters worse, it seems like everyone in Marin's town knew and loved her mom. They're drawn to her, always randomly walking up to Marin and talking about her as if she remembers her. Ever since her death, she has lived with her strange yet loving–in his own way–grandfather.
A few months before we join her story, tragedy struck and eighteen-year-old Marin could not have gotten out of California any quicker. Thankfully, she had college waiting for her in New York as an excuse, and upon her abrupt departure, she cut all ties with everyone she knew, saying goodbye to no one.
But you can't outrun tragedy forever. After months of silence and the countless calls and texts–laced with the gentle concern of a best friend–going unanswered, Mabel takes a different approach. She decides to visit Marin in person, where she knows she will be incapable of ignoring her. Now, Marin must begin to face all that she has tried, and failed, to put behind her.
Told in alternating chapters between the past and present, we slowly piece together an idea of what Marin's life was like before she left, and what happened to make her leave the way she did.
Continue reading "We Are Okay by Nina LaCour: Book Review" →